Editing for Proper Tense
Source: Verb Tenses, Phillip Martin
We know that you have been learning about verbs since first grade, but before we move on to actual editing, let's quickly review tenses. In standard American English, we use past and present verb tenses most. Some experts, in fact, say past and present are the only true tenses because they are the only ones that don't require helping (auxiliary) verbs. Most high school textbooks, however, list twelve verb tenses, as summarized in the chart below. (For more information about each of these tenses, click here.)
Simple

Progressive

Perfect

Perfect Progressive

Present

talk/s
(action that is occurring now, occurs regularly, or is generally true)

am/is/are talking
(action that is occurring now, occurs regularly, or is generally true)

have/has talked
(action that began in the past and is linked to the present)

have/has been talking
(action that began in the past and is linked to the present)

Past

talked
(action that occurred before now)

was/were talking
(action that occurred before now)

had talked
(action that was completed before another past action)

had been talking
(action that was completed before another past action)

Future

will/shall talk
(action that will occur in the future)

will be talking
(action that will occur in the future)

will have talked
(action that will be completed before another future action)

will have been talking
(action that will be completed before another future action)
There are approximately 200 irregular verbs in English that have the same tenses as regular verbs. They are considered irregular, however, because you form their past tenses and past participles in unusual ways, not by adding –d or –ed like you would with regular verbs. For example, the past tense of the regular verb "cry" is "cried," and the past participle is also "cried"; on the other hand, the past tense of the irregular verb "rise" is "rose," and the past participle is "risen."
Practice choosing correct tenses in the sentences that follow.
Editing essays or research papers for proper tense is more difficult than completing the previous exercise because you're working not only with sentences, but also with paragraphs. In addition, the task is twofold. You must check to ensure that you use the correct tense for the meaning you want to convey, like we did above. Then you must also use that tense consistently if the time frame remains constant. Unnecessary shifts confuse readers. If the time frame changes from one action to another, however, you must shift tenses.
| | |
| --- | --- |
| Her name was Connie, and she is fifteen years old. | Confusing shift: Is she in the past or present? |
| Although I am standing right here, Joseph slammed the door. | Confusing shift: Are the speaker and Joseph in the present or past? |
| Shirley loves the costume she made for the play. | Necessary shift: She loves now what she made in the past. |
| She is cooking a pizza because the cast members will be hungry after the performance. | Necessary shift: She is cooking now in anticipation of the cast's future hunger. |
The basic rule to keep from switching tenses unnecessarily sounds simple and obvious: Decide which tense you're going to use for your paper, and then use it consistently unless you need to make some shifts to indicate changes in time. What many of us fail to do, though, is make a conscious decision about the primary tense before we begin writing a paper. The result is that we write without giving much thought to verb tense until we finish and have to correct errors in tense.
To assist you in editing—and to help you make a plan of action before you write another paper—here are some general guidelines to follow:
Past tense works best when writing narratives based on personal or historical events. Such works include narrative essays and papers about the lives and ideas of authors and other historical figures.
Present tense works best when writing about your own ideas or the ideas an author writes about in a work of literature (see information below about the "literary present"). In addition, use present tense to state facts and write about ongoing actions. If you do decide to write a narrative in present tense as though it were happening now, be sure to stick with present tense and to not slip into past.

Will

and

shall

point to future tense, but future actions can also be indicated in other ways. Words such as

tomorrow

,

next week

,

am going to

,

are about to

, and

soon

are clues that you're writing about the future.
Literary present tense
Because you will be writing about literature in many of your English papers, you need to know the rule about literary present tense. Literary works, paintings, films, and other artistic creations are assumed to exist in the present, so when you write about what authors or artists express in their works, stay in present tense. Here are some examples: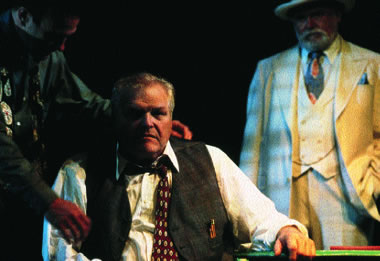 Source: Willy Loman in "Death of a Salesman," Eric Y. Exit, Goodman Theatre
In Death of a Salesman, Arthur Miller

describes

the mental deterioration of Willy Loman.
In Dali's painting, the landscape

melts

.
Steinbeck's characters

look

for a place to call their own.
King George VI, as Colin Firth

portrays

him in the film The King's Speech,

overcomes

a speech impediment with the help of an unconventional therapist.


Incorrect: Huckleberry Finn

ran

away from home and

rafted

up the river. (Using past tense to write about a work of literature)
Correct: Huckleberry Finn

runs

away from home and

rafts

up the river. (Using literary present tense)
Often writers using the present tense accidentally shift to the past after using a quotation.
Incorrect: Gulliver

is

shipwrecked in a strange land. When he

awakens

, he

makes

a startling discovery: "I found my arms and legs

were

strongly fastened on each side to the ground" (17). He

was

a prisoner of tiny people called Lilliputians.

There is no error until

was

, which should be

is

. Influenced by the past tense in the quotation, the writer mistakenly shifts tense.
There are two exceptions to the present tense rule.
One is the occasional situation in which you talk about two different times in the work. (For example, Huck

is

now sorry that he

had played

a trick on Jim.)
The other exception is the situation in which you talk about historical facts pertaining to the work.

Dr. Frankenstein conducts experiments involving electricity, which still seemed mysterious in 1818 when Mary Shelley wrote the novel. (Conducts is in present tense because it refers to events within the novel; the other two verbs are in past tense because they refer to historical facts.)

The first part of the poem, which she completed in 1906, describes the effects of isolation from society. (Completed is in past tense because it refers to historical information; describes is in present tense because it refers to the poem itself.)
News flash! Your computer's grammar and style checkers won't help much with incorrect verb tenses or tense shifts because correctness usually depends on meaning. You will have to edit carefully yourself to find errors in tense.
The following three interactive exercises will make you more aware of tense inconsistencies and better able to spot them in your own writing. Write your answers on your own paper or use your notes. At the end of each exercise, check your answers.
Exercise 1: How well do you recognize shifts in tense?
http://owl.english.purdue.edu/exercises/2/22/49
Exercise 2: Can you apply your knowledge of tense consistency by using the appropriate tense?
http://owl.english.purdue.edu/exercises/2/22/51
Exercise 3: Can you apply your knowledge of tense consistency by recognizing and identifying shifts in tense?
http://owl.english.purdue.edu/exercises/2/22/52