Purposeful Arrangement of Words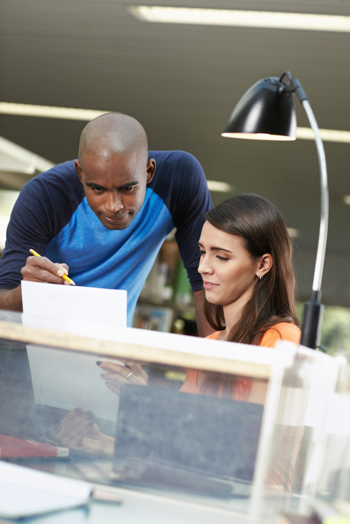 You may also revise your essays by using tropes, which add variety through words or ideas expressed in an unexpected way. The first trope you might consider is a metaphor, which is based on a comparison of two seemingly unlike things.
Open the link "Using Metaphors and Similes to Enrich Our Writing (Part 2)" by Richard Nordquist who is an expert in grammar. Look at John Updike's simile and Christopher Isherwood's extended metaphor to get an idea of how professional writers use tropes.
Nordquist provides examples of a simile from an early draft of an essay and advises you to add more details as you revise so that the comparison will be more precise.
Complete "Practice Using Similes and Metaphors." Compare your response to the first sentence with the sample comparisons at the end of the exercise.
Again, a metaphor is a trope based on comparison. See examples of other tropes below.
Tropes based on word play are designed to entertain readers through the sounds and meanings of words, as in Tom Swifties: "The luggage is stored at the back of the ship," Tom said sternly. "Stern" is a term that refers to the back of the ship!
Here are some examples of the most common word-play tropes:
Pun: "I wondered why the baseball was getting bigger. Then it hit me." (For more puns such as this one, go to www.punoftheday.com). A pun suggests two or more meanings by exploiting the multiple meanings of a word or a similar-sounding word.
Onomatopoeia: The use of words that sound like what they mean (for example, "buzz" and "purr").
Tropes based on overstatement or understatement
Overstatement (hyperbole): A rhetorical device in which an exaggerated statement is made.
Click on the link to enjoy "The Ten Greatest Hyperboles of All Time." (Notice how the title itself is an overstatement.) On this site you will read hyperboles from a variety of sources including films and speeches.
Understatement (litotes): According to Nordquist, understatement is a figure of speech in which a writer or a speaker deliberately makes a situation seem less important or serious than it is. The effect is usually humorous. Here's an example from Nordquist's About.com page: "It's just a flesh wound" (spoken by the Black Knight after having both arms severed in the film Monty Python and the Holy Grail). Obviously the loss of both arms is a far more serious injury than a superficial flesh wound!
Tropes involving the management of meaning
Irony: The use of words in which the intended meaning is contrary to the literal meaning (for example, "I could care less"). Textbook authors Hepzibah Roskelly and David Jolliffe offer this example of words meant to convey the opposite of their literal meaning: "Their center is over seven feet tall—where do they come up with these little pipsqueaks?" A seven-foot tall basketball player is no pipsqueak; such a tall player poses a real challenge to the opposing team.
Oxymoron: a rhetorical figure in which incongruous or contradictory terms are combined, as in "deafening silence."
Rhetorical question: a figure of speech in the form of a question posed for its persuasive effect without the expectation of a reply, for example, "Why me?"