Using Questions to Organize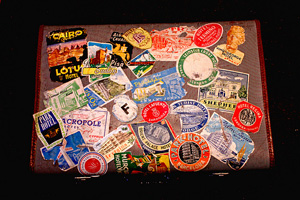 Source: "All packed," Elitatt, Flickr
Writing academically requires you to be more reader-aware than other kinds of writing. In many kinds of writing, the author can expect the reader to put things together using clues here and there. In academic writing, however, the writer is supposed to do all the work. This means the writing should have external coherence, a clear organization that a reader can follow easily.
One of the methods you can use to keep your writing organized is to constantly switch back and forth between thinking as a writer and thinking as a reader. In other words, it is good to have a conversation with yourself. You need to provide all the information, as any good writer must; but in the reader's shoes, you may better see how to orchestrate the presentation, signal what should come next, and make sure that the structure does not get lost in the details. The reader is similar to an interviewer. As a reader, you should ask questions to clarify what the information is really about.
Using questions and answers for planning a paper might look similar to the exercise you're about to do. Let's assume that you are writing a paper about "the effects of travel." For each question below, respond with at least one sentence using your notes. Check your understanding after each response. Don't worry if you have different answers; many responses could be correct.
What position are you going to take on the topic "the effects of travel"? In other words, what is your thesis?



Can you express the thesis in different words? (Use the demonstration thesis.)



What reasons will support your thesis and possibly make me agree with you?



Can you restate your first reason and connect it to your thesis?



Can you restate that connection in different words?



Can you give some examples of what you mean?



Why might someone disagree with you? Can you respond to these disagreements?
The question sequence for a thesis-and-support essay can stay pretty much the same no matter what your topic is. Some topics may, of course, require you to adjust the sequence, but remember these three points:
Switching back and forth between a writer's mind and a reader's mind will lead to better academic writing.
Restating the main points in different words can improve the clarity of the essay.
Including an opposing voice in the writing gives you the chance to answer the questions that readers might have. Using an opposing voice is a crucial addition to your body paragraphs.