Determining What Irony Is and Isn't
Source: Irony, mag3737, Flickr
In 1995, pop singer Alanis Morissette released a song called "Ironic." Ever since its release, people have criticized her for not knowing what irony is. She calls many things ironic in the song, and some say that her examples aren't ironic at all. Genuine irony is different from everyday bad luck and sad, annoying experiences. Does Morissette misuse the word irony when she applies it to certain coincidental events?
As you do this exercise, remember that the term "irony" includes those occurrences that are notably incongruent with our expectations. A coincidence is slightly different. It is an occurrence of two or more events at one time apparently by mere chance. Some coincidences are ironic, but not all are. Here are examples from Morissette's "Ironic" that are not in themselves ironic:
"It's a free ride when you've already paid." This is just bad timing, no matter how annoying.
"It's a traffic jam when you're already late." This sentence is the same as the above.
Here are examples from the song that are ironic:
"Mr. Play It Safe was afraid to fly/He packed his suitcase and kissed his kids goodbye/He waited his whole . . . life to take that flight/And as the plane crashed down. . . ." The man who is fearful of flying dies in a plane crash when he finally overcomes his fear. This is the notable incongruity that makes the example ironic.
" . . . he thought/'Well, isn't this nice . . .'" These words, thought by Mr. Play It Safe as he tumbles from the heavens, are notably opposed to the truth—it is anything but "nice" to die in a plane crash.
"An old man turned ninety-eight/He won the lottery and died the next day." If we win the lottery, we not only expect to have a good time, but also expect to have a fantastic life. Death is incongruent with our expectations.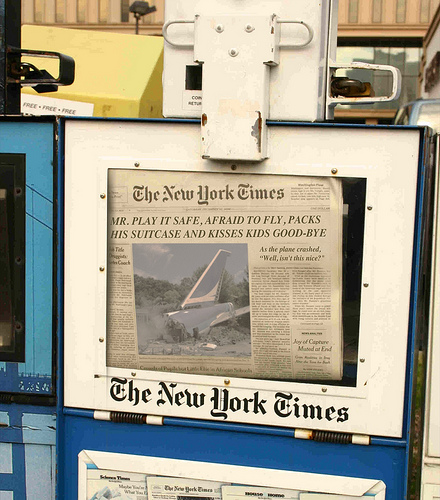 Source: "Aerophobic Dies in Plane Crash," Mykl Roventine, Flickr
Now choose either "Ironic" or "Not Ironic" for each item. Hint: There are five examples each of irony and non-irony.