Your Turn
Now, watch and critique a video on your own. To write the critique, you will need to do the following as you watch the video:
Predict what the speaker will say based on what you know about the speaker, the context, the topic, and the audience.
Listen for the speaker's position and the evidence he gives to support his position.
Consider how well the speaker introduces, supports, and concludes the presentation.
Listen to the speaker's voice and language and consider if it is appropriate for the audience.
Watch the speaker's use of gestures, facial expressions, and visuals to see how well they support his ideas and connect with the audience.
Use your notes to write your impressions of the presentation. Pause and play the video as needed to evaluate the presentation and the speaker.
This presentation was given in 2011 by Dale Dougherty, creator of Make magazine, which brings "the do-it-yourself mindset to technology."
Source: "We Are Makers," Dale Dougherty, TED Talks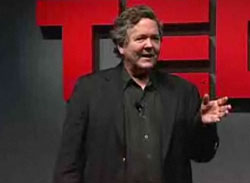 Source: "We Are Makers," Dale Dougherty, TED Talks