Using Parenthetical Documentation
For more information on this topic, see the lesson "Documenting Sources and Writing a Bibliography/Works Cited."
Source: MLA Handbook, Modern
Language Association of America,
Wikimedia Commons
When you use the work of others in your research papers and essays, it's imperative that you acknowledge where you got your outside information. If you don't, you could be accused of plagiarism. There are various ways to document sources. Your choice will depend on which writing style guide your class or school uses. Most English classes use MLA style, so that is the documentation style we demonstrate in these lessons. Other style guides include The Chicago Manual of Style and APA (Publication Manual of the American Psychological Association).
As I said in the introduction, the sources of all quotations must be identified with parenthetical documentation, also called in-text citation. If you directly quote someone's spoken or written words, no matter how inconsequential they may seem, you must identify the source and the page number (if there is a page number).
Indirect quotations also require documentation. The only exception to this rule is an indirect quotation that consists of common knowledge; common knowledge does not need parenthetical documentation. How does somone know what information needs parenthetical documentation and what doesn't?
Deciding when you need to give credit
Need to Give Credit in the Text

Don't Need to Give Credit in the Text

When you use the same words or even a unique phrase from someone else's work or writing (direct quotation)


When you paraphrase or summarize information that is not common knowledge (indirect quotation)


When you use or refer to another person's words or ideas from a magazine, book, newspaper, song, TV program, movie, Web page, computer program, letter, advertisement, or any other medium


When you interview or talk to someone face-to-face, on the phone, or in writing (e-mail or otherwise), and use this information in part or in whole


When you copy any diagrams, illustrations, cartoons, charts, pictures, or other visuals


When you reuse or repost any electronically accessed information, including images, audio, video, or other media from places such as e-books, Web sites, library databases, CDs, DVDs, iTunes, forums, or chat spaces



Basically, if your information is obtained from somewhere else, or someone else, and isn't something most people would know,
document it.

When you share personal experiences, observations, or opinions


When you use common knowledge that's available in at least five credible sources and is information you believe your readers already know—information that a person could easily find in general reference sources, or information that is not arguable or based on any particular way of thinking—for example, folklore, common sense observations, myths, and historical events (but not historical documents)

For example, July 4, 1776 is Independence Day and can be confirmed in more than five sources. Most people in the United States would know this fact.


When you state generally accepted facts (such as "Eating fruits and vegetables every day is better than eating the same amount of candy and chips.")


When you use work that you have created such as posters, artworks, videos, and podcasts


When you write results that you obtained through your own experiments (such as noting how many of your homeroom classmates wear black each day)



If you're unsure about citing information, go ahead and cite.
See how well you can separate common knowledge from facts that should be cited. Choose the correct answer for each statement below.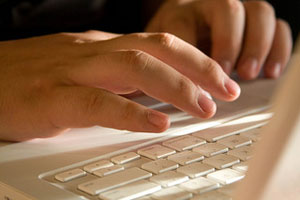 Source: typpity-typpity. Amanky, Flickr
In the MLA documentation style, a short parenthetical citation is placed at the end of a quotation. This in-text citation refers the reader to the list of works cited for more complete information about the source. (The works cited list is called a bibliography by some other style guides.) Most citations consist of the author's last name and a page number (for example: Smith 47).
For a complete list of the many parenthetical documentation possibilities, consult the newest edition of the MLA Handbook for Writers of Research Papers. Below are a few examples of how in-text MLA citation would look for certain sources:
(257)



When the author's name has already been mentioned in the sentence, use only the page number.



(Smith 47)

To cite a book with one author, a signed encyclopedia article, a magazine article, an article from a scholarly journal, or a newspaper article, include the author's last name, a space, and a page number.

(Smith and Jones 86)

To cite a book or article with more than one author, include the authors' last names followed by the page number. When you list the names, use commas and "and" like you would in any other writing.

("Bank Robbery" 8A)

To cite a source with no author listed, include the first word or first two words of the title, excluding articles (a, an, the), and the page number.

Smith writes that. . . .



To cite a source with no page numbers, or if an entire work is being acknowledged (a Web site or a film or song found online), it's best to include the author's name (or the title of the work, if the author's name is not available) in your sentence instead of using parenthetical documentation.
Punctuating parenthetical citations
(or "Here We Go Again" With Exceptions to the Basic Punctuation Rules)
Place a parenthetical citation before any punctuation required by the sentence. Periods and commas always go inside quotation marks unless there is parenthetical documentation, in which case periods and commas go after the documentation. For example, you would be correct to write a citation like this:

—She said, "Hurry up" (Thomas 14).

The exception itself actually has an exception. If you cite a sentence that ends with a question mark or exclamation point, use the exclamation point or question mark inside the closing quotation mark, and follow the quotation mark with the documentation and a period. For example:

—The doctor asked, "What is a human life worth?" (Lowe 391).

The ending punctuation of a block quotation comes before the parenthetic documentation. The block quotation from Zen and the Art of Motorcycle Maintenance in the third section of this lesson, "Embedding Direct Quotations," demonstrates this.